Matthew 28:19-20 of the Bible reports Jesus' command to go into the world and make disciples. Acts 1:8 instructs us to be involved by reaching out to people near home as well as those who live far away in other countries. At Poplar Heights, we support missions in a variety of ways — both financially and by getting involved in mission efforts.
We like to be involved in mission efforts in West Tennessee as well as those taking place far from home. In Jackson, we support and participate in missions like Holt Child, RIFA, and Hope Center.
At Poplar Heights, we support the International Mission Board and the North American Mission Board, both of the mission organizations of the Southern Baptist Convention. View the map and cities listed below to see the cities in North America that are being targeted by NAMB.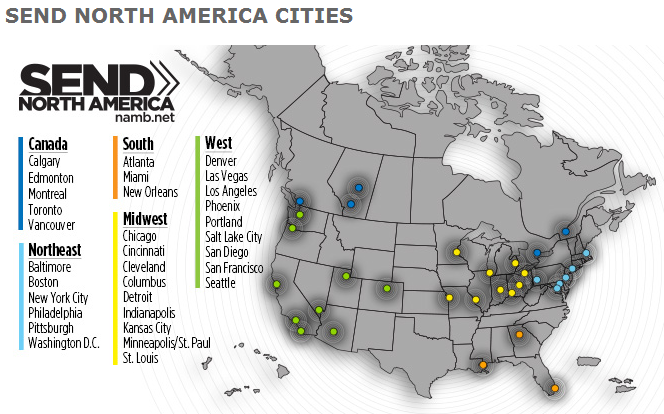 It's been said if you reach the cities, you'll reach the nations. With 83 percent of the population now living in metropolitan areas, the major population centers in North America are vital mission fields for Kingdom growth and influence. NAMB will prioritize its work in 50 cities throughout North America. The map above depicts the initial 32 cities where work will be channeled. Poplar Heights is currently working on establishing a mission partnership with one of our SEND Cities as well as an international mission partnership.