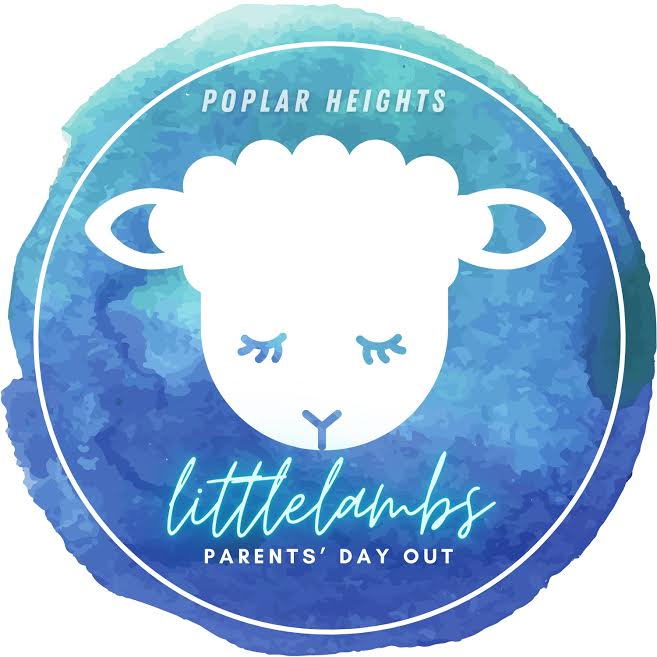 Little Lambs provides an exceptional parent's day out and preschool curriculum on Tuesdays and Thursdays, from 9:00 a.m. to 2:30 p.m. Our goal is to create a Christ centered environment for young children that is inviting and full of exciting and educational activities. We provide a Bible based curriculum that also implements age appropriate early numeracy and literacy skills throughout our day. Our goal is to learn as much as we can during this special time! The development of these skills begins at birth by interacting with our children and talking about the world around them.
     At our Little Lambs program we aim to fill our days with as much fun and learning as possible. We have a monthly theme with special activities going along with our daily routines. Each week our teachers will focus on a letter, shape, color, and number during group time. Each room is set up with activities to improve each child's fine & gross motor skills as well as social skills, building and encouraging each child in their independence. We encourage children to make choices for individual or small group activities. Preschoolers learn primarily by watching, hearing, and doing, through experiences in work and play. Therefore, we will provide both structured activities as well as free play time in each class. We work to meet the spiritual, emotional, intellectual, physical, and social needs of each child that walks into our doors here at Little Lambs. We hope to enable our children to reach their full potentials and giving them perspective on how we can be a big part of bettering the earth and our community around us. They will be given the opportunity to participate in various activities throughout our year that will serve our community to allow our kids to see things from a different perspective and be directly involved in their community.
     At Little Lambs we have babies- Pre-k classes. Each class has their own daily schedule based on their specific needs. The one year old room all the way up to our Pre-k classes will participate in our "kidz worship" where we will all join together each day to learn fun songs and movements as well as given the opportunity to play different instruments.
      We offer a TOTS program here at Little Lambs! This is offered as an option to our Pre-k classes to participate in once a week for a 45 minute class. This class is focused around improving your child's physical and mental growth through movement and music.
We have a playground appropriate for all ages, a gym with riding toys, and an indoor play area, that we named our "Powerhouse/ Playhouse" for the Children to have creative and imaginative play outside of their regular classrooms.
     We also offer a parent's night out program! Once a month on a Friday evening from 5-9pm, we will have childcare available. First come, first serve! There are limited spaces. We will notify parents each month on details and provide a sign up sheet.
We are a year round program, we do have summer camps available for babies- school age once the school year comes to an end.
     We look forward to meeting you! If you are here reading about us, come in and meet us in person for a tour! We would love to have your child join our program. We have prayed for each person that has become a part of our program and are praying for you right now. If you have any questions at all please give us a call.
MORE SPECIFICS
AGES 6 WEEKS—PRE-K AND THROUGH 5TH GRADE IN THE SUMMER
CLASSES:
INFANT
WALKER
TWOS
THREES
PRE-K
K-5TH GRADE (SUMMERS ONLY)
SNACKS ARE PROVIDED. PARENTS PROVIDE LUNCH FROM HOME
FEE SCHEDULE
Monthly Tuition………………………$180.00
due on or before the 1st Tuesday of every month
Registration Fee* (each semester)……$50.00
*The registration fee is non-refundable and is used to purchase program supplies
By registering your child at Little Lambs Parents' Day Out program, you are committing to pay monthly tuition for the entire semester. Our program is run solely on parent tuition. Your payment ensures that our teachers and staff are paid, in addition to providing classroom equipment, supplies, and snacks for your little ones during their time here. This also allows us to provide fun extracurricular activities and learning tools throughout the year.
You can register by clicking on the 'Registration Form' link, filling out the form, and sending the filled form to Robin@poplarheights.com
For more information contact:
Robin Rich, Director
Robin@poplarheights.com
Office Number: (731) 300-7895
Instagram: @littlelambsphbc